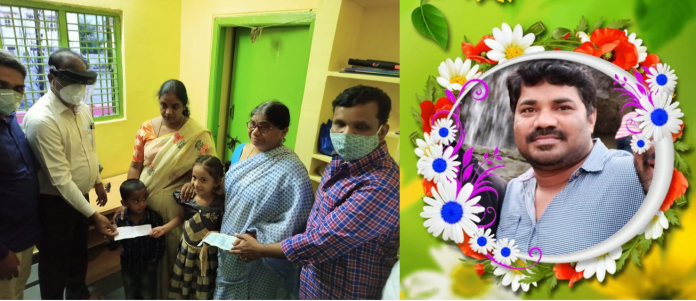 Yesterday, Alumni president Dr Narendar, General Secretary Rajashekhar Reddy, Treasurer Vivek, along with Ramana Reddy, MLA Kishore Kumar, Krishnaiah, Raju Jampala, and few batch members of 95 and 96 visited the house of Late Athi Nagarjuna. They handed over the cheque for INR 8,68,313(Eight Lakhs Sixty Eight Thousand Three hundred and thirty-three only)received through the generous contributions from the Almuni is handed over to Mrs Athi Null Santosha, wife of Late, Nagarjuna Athi. Apart from the alumni, Late Nagarjuna batchmates pooled Rs. 3,02,000 (Three Lakhs two thousand only) and the same also handed over to their family. The total contribution amount of Rs. 11,70,313 has been handed over to the family through two checks.
Nagarjuna died with massive heart attack on 14th August 2020. He is survived by his wife with a 5 year old daughter and 3 year older son. He was in the business of running a mess. Unfortunately, there was a major incident in his business, where a truck rammed in to his mess and damaged the property.Few days later, the complete lockdown adversely impacted his business. The build up pressures took a toll on his health and he died of massive heart attack.
His batchmates approached alumni association for help. Alumni Association responded by reaching out to Alumni members to raise funds for Late Nagarjuna family. Several Alumni members from 1971 batch to date contributed generously.